This article explains how to conduct design planning for a new medical device product launch that requires a 510k submission in 300 days or less.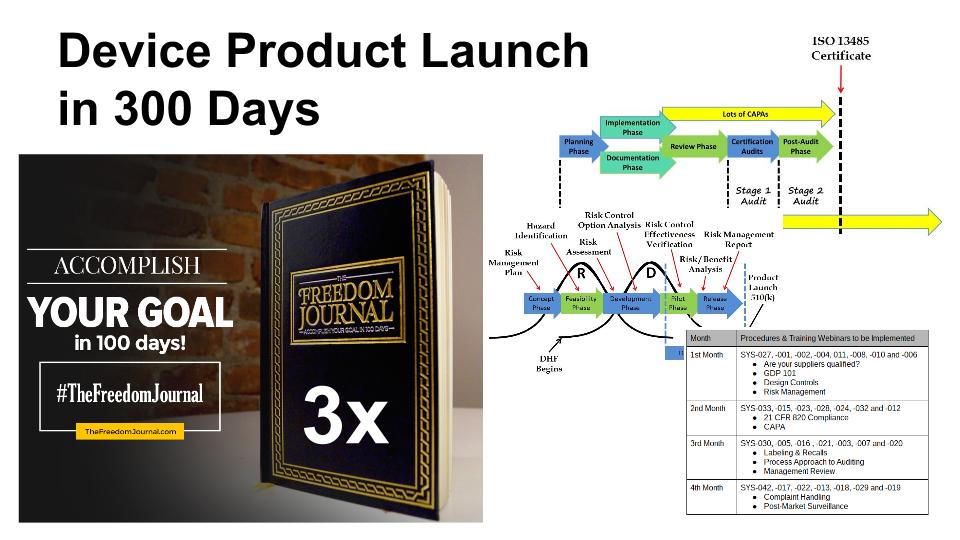 One of the most valuable pieces of information you can receive is a plan for your medical device product launch. Some companies contact me, asking for help in implementing their quality system. You should be implementing this step last if you are a start-up company. Some companies contact me asking for help preparing their 510k submission. But you need to seek help much earlier. The best time to contact an expert for help with your product launch is 300 days before you want to launch your product.
Three Major Milestones of a Product Launch
Three major milestones must be completed before a medical device product launch can proceed. First, you need to complete the design specifications for your device. Second, you need to complete the design verification and validation activities and summarize this testing in a 510k submission or another type of regulatory submission. Third, you need to implement a quality system that meets the requirements of 21 CFR 820 and/or ISO 13485:2016. Each of these three major tasks can be completed in less than six months, but with proper planning and motivation, all three can be completed sequentially in less than one year for many products. Completing all three milestones in 300 days is possible.
Break Your Product Launch into Phases
Whenever I plan a design project, I break the overall product development into chunks that are easily understood, with measurable milestones, and I establish a timeline that is aggressive but possible. The design process typically has six phases, but several of these phases are shorter than you want, and the overall process is too long for a single chunk. Therefore, I decided to break the six phases into three pieces: 1) product development, 2) verification and validation, and 3) regulatory clearance. The end of the first chunk is marked by a "design freeze" where your team will conduct a design review and approve the final design outputs before you begin verification and validation of your product design. The second chunk is marked by the submission of a 510k or some other regulatory submission. The third chunk is marked by the completion of your quality system and receipt of your 510k clearance letter from the FDA.
How Long Should Each Phase of the Product Launch Be?
In the past, I would choose a timeline of approximately 3-4 months for each major phase of product launch. However, I have been learning a lot about goal setting, and I now target 100 days for the completion of most milestones. The reason is that 100 days is a time period over which most people can maintain their enthusiasm and motivation for completing a goal. If a goal takes longer than 100 days, then you should probably break down the goal into two or more smaller goals. If each of the three major phases of your product launch requires 100 days, then you can complete the overall product development and product launch within 300 days. One of the tools I recommend for planning and tracking your progress toward a 100-day goal is The Freedom Journal.
Product Launch Phase 1 – Your Design Plan
Your design plan should be the first thing you create. To create a design plan, you will need to identify the regulatory pathway–including all of the testing that is required for verification and validation of your new medical device. This design plan should identify all the design reviews, all the verification and validation testing that is required, and the regulatory approval process required before the product launch.
Product Launch Phase 2 – Preparing Your 510k Submission
Once you have approved your design outputs during the "design freeze," now you need to complete the verification and validation testing, during this phase you will need to make sure that you have identified all the testing, and how many samples will be required for each test. You need to determine which steps of the testing process can be performed in parallel instead of performing tasks in series. For example, you will need to package and sterilize samples that are required for biocompatibility testing, but electrical safety testing samples can be non-sterile. Therefore, the packaging validation must be completed before biocompatibility testing, but the electrical safety and EMC testing can be performed in parallel with both activities. For most products, biocompatibility testing is one of the last tests that is typically completed, and the longest of these tests usually takes between 8-12 weeks. Therefore, 100 days is probably the fastest you can complete your verification and validation testing. During the entire verification and validation process, you should be preparing your 510k submission. This will ensure that the submission is ready when the last test report is received–instead of frantically rushing to complete the submission in just a few weeks at the end of the process.
Product Launch Phase 3 – Implementing Your Quality System
Many companies start their quality system at the beginning of the design process. However, you should only implement two procedures before completing your 510k submission: 1) design controls, and 2) risk management. These two procedures are needed to document your design history file (DHF) properly, and it is much harder to document your DHF after the design is completed. The balance of the procedures can be implemented in about 100 days, while your 510k submission should take between 90 and 180 days to receive clearance from the FDA. Therefore, you should be able to complete the quality system implementation before receipt of your 510k clearance letter.
"Rinse and Repeat" for Your Next Product Launch
Once you have completed your product launch, you should review the post-market surveillance from your customers during the first 90 days. I like to call this the 100-day review. One hundred days after the first product launch is the perfect time to conduct your first management review meeting. You should have your first internal audit completed during the first 100 days, and you should have a lot of great feedback from customers during the first 90 days of product use. Therefore, top management can review the customer feedback, internal audit results, and progress toward other quality objectives to identify improvement action items needed. These improvements may be quality system improvements and/or product improvements. One of the outputs of your first management review meeting should also be an identification of your next product development.