This page explains what you will receive when you purchase our Quality Manual template for ISO 13485:2016, MDSAP, and the EU MDR (POL-001).

Is a quality manual required?
Unlike ISO 9001:2015, the ISO 13485:2016 standard requires that manufacturers establish a quality manual. This requirement is found in clause 4.2.1(b). POL-001 is Medical Device Academy's template for a quality manual. It is the primary document meeting the applicable regulatory requirements for a Quality Manual as defined in clause 4.2.2 of ISO 13485:2016. There are four requirements for the content of a quality manual in that sub-clause. First, you must define the scope of the quality management system, including details of and justification for any exclusion or non-application. In ISO 9001:2015, any clause may be excluded. However, in ISO 13485 it is only permitted to exclude design controls, and sub-clauses within clauses 6, 7, and 8 may be identified as non-applicable depending upon the nature of the products or services. Second, the quality manual must include documented procedures for the quality management system or reference to them. Third, a description of the interaction between the processes of the quality management system. Finally, the fourth requirement is that the quality manual shall outline the structure of the documentation used in the quality management system.
In order to address sub-clause 4.2.2a), we included a list of the most common sub-clauses that are identified as non-applicable. In addition, in the sections of the manual where those sub-clauses are found, we have inserted a draft rationale for non-applicability. In both places, this content is in green font. If the sub-clause is not applicable to your device, then you delete that section of the manual's content and change the green text to the black font. If the sub-clause is applicable, then you delete the sub-clause from the list of sub-clauses that are not applicable. You also delete the draft rationale for non-applicability from the appropriate section of the manual.
In order to address sub-clause 4.2.2b), we included references to our standard operating procedures in each section of the manual where the procedure requirement is found. If you are only purchasing our quality manual template, then you will need to substitute your own procedure numbers for the numbers we used. In any section where the clause is applicable to your device, but it is a function your firm is outsourcing, then you will need to state this in the manual and you will need to reference the supplier quality management procedure (i.e. SYS-011) instead.
In order to address sub-clause 4.2.2c), we included a process interaction diagram at the end of the manual. You will need to update this diagram to remove any procedures that are not applicable. Alternatively, you can replace our generic process interaction diagram with a process interaction diagram that is of your own design.
Finally, in order to address sub-clause 4.2.2d), we added a diagram of a pyramid. The corporate policies such as the quality manual are at the top of the pyramid. This is also where your policy for risk acceptability would be for the company (see ISO/TR 24971:2020, Annex C.2 and ISO 14971:2019, Clause 4.2.2). The quality system procedures (i.e. SYS-xxx) are the next level of the pyramid. Detailed work instructions (i.e. WI-xxx) are the next level of the quality system. We generally recommend that the number of detailed work instructions is minimized. This is accomplished by limiting the scope of the work instructions to detailed operations that require step-by-step written instructions, such as manufacturing processes and inspection methods. The base of the document structure pyramid is quality system records. Each of these records is created by filling in blank forms (i.e. FRM-xxx) and logs (i.e. LST-xxx). The purpose of the document structure policy document, POL-002, is to give you a document where you can define other types of documents in your quality system, such as drawings (e.g. DWG-xxx).
What's included with the Quality Manual (POL-001)?
The following is a list of documents included with the purchase of Medical Device Academy's Quality Manual Template (POL-001):
POL-001 Quality Manual

POL-002 Document Structure

POL-003 Glossary

Process Interaction Diagram Template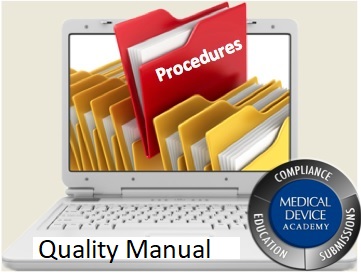 POL-001 - Quality Manual
POL-001 is our Quality Manual template for an ISO 13485:2016 quality system. This purchase also two additional templates: 1) POL-002, Document Structure ; and 2) POL-003, Glossary. This procedure has been updated for compliance with the MDSAP Regulations, 21 CFR 820, and Regulation (EU) 2017/745.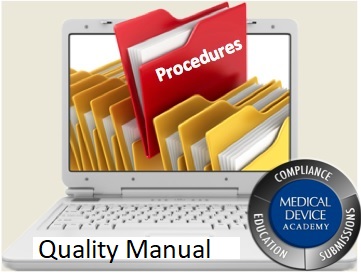 To view all available procedures click here
To review a sample Medical Device Academy procedure click below: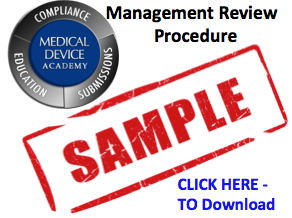 Please note: This product will be delivered to the email address provided in the shopping cart transaction. After the transaction is verified, please check your email for the download. To view all available procedures click here.
About the Author
Matthew Walker – QMS, Risk Management, Usability Testing, Cybersecurity
Matthew came to us with a regulatory background that focused on OSHA and NFPA regulations when he was a Firefighter/EMT. Since we kidnapped him from his other career, he now works in Medical Device Quality Systems and Regulatory Pathways. He is a Junior in George Washington University's BSHS- Clinical Research Management Program, and we are proud to say that he is also a member of both the Golden Keys and Phi Theta Kappa Honor Societies! Matthew participates as a member of our audit team and has a passion for risk management and human factors engineering. Always the mad scientist, Matthew pairs his professional life in regulatory affairs with hobbies in the culinary arts as he also holds a Butchers/Meat Cutters certificate from Vermont Technical College.
Email: Matthew@FDAeCopy.com
Connect on Linkedin: http://www.linkedin.com/in/matthew-walker-214718101/