This article explains my process for updating training procedure SYS-004 for compliance with ISO 13845:2016 while the procedure was also simplified.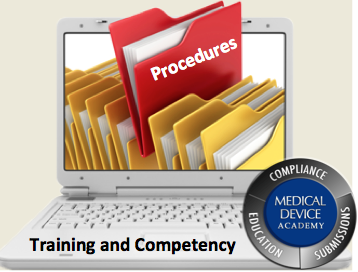 In addition to weekly blogging for the Medical Device Academy website, I am also updating each of my procedures for ISO 13485:2016 compliance. This week the training procedure (SYS-004) was updated. You are updating your procedures for compliance with the revised standard, but are you making any other strategic changes at the same time?
Changes to Training in ISO 13485:2016
The primary change to Clause 6.2 in ISO 13485 was the addition of the phrase, "shall document the process(es) for establishing competence, providing training, and ensuring awareness." This doesn't represent a change in the intent of the standard. Still, it does signal that certification bodies should be emphasizing the importance of assessing the effectiveness of training and competency–not just verifying the existence of training records.
Updating Training Procedure
The original version of SYS-004 had eight pages and included three different flow charts to explain the process. The procedure also required the use of a training plan for each employee. While I agree that managers should plan training if you make this a formal requirement with a controlled form, it creates an unnecessary burden for managers.
Therefore, when the procedure was updated to the requirements of ISO 13485:2016, the procedure was also simplified for smoother implementation by start-up companies. When you upgrade your procedures, you might look for similar opportunities to simplify and streamline the processes.
The updated procedure now has suggestions for how to consolidate specific roles for smaller companies. The procedure still references a training record for documenting training, but now there is also a reference to a training matrix to help document training requirements for each employee.
The FDA also requires that there are documented training requirements. Therefore, the procedure identifies the need to create a job description that includes training and competency requirements. The procedure does not, however, require that the job descriptions be maintained as controlled documents. If your company has multiple people with the same job function (e.g., customer service), then it might make sense to have a controlled document that is a job description for customer service. A company with four employees does not need controlled documents, and instead, a unique record for each employee makes more sense.
Updating Training Procedure to Explain How to Complete Forms?
Another option is to make your procedure very detailed to explain how to complete each section of a form, such as the training record (FRM-002) or the training matrix (FRM-026). However, I see very few managers struggle with completing training records. Therefore, instead, I plan to record a brief training webinar that explains how to fill in the forms. This will be provided as a free update to anyone that purchases the training competency procedure. This makes it easier to review the procedure for regulatory compliance and puts the details on how to complete forms in the training curriculum where it belongs.
If you have questions about how to update any of your procedures to ISO 13485, please email me at rob@13485cert.com. Maybe I'll use your question as a topic for a future blog.