This webpage outlines the contents of our Data Analysis Procedure (SYS-017) as required by ISO 13485:2016 in clauses 5.4.1, 8.2.5 and 8.4.
Data analysis is the requirement in clause 8.4 of ISO 13485:2016, but this procedure also addresses the requirements of clauses 8.2.5 and clause 5.4.1. The title of this procedure is actually, "Monitoring, Measurement and Data Analysis Procedure." The procedure is in its third draft. There are no specific forms or lists associated with this procedure. The procedure is 5 pages in length.
The purpose of this procedure is to define the process for monitoring, measuring and analysis of processes within your company's quality management system. It also explains where the information for methods of monitoring each process can be found within procedures.
The scope of the procedure explains how monitoring and measurement processes shall be documented for each process in your quality management system. The procedure also defines how quality objectives will be established and maintained. The procedure defines how data analysis shall be performed for the metrics for each process and the quality objectives, and finally the method for communicating the conclusions of the data analysis to top management are defined.
This procedure does not include the requirements for statistic analysis techniques as required by 21 CFR 820.250. Those requirements are satisfied by SYS-022, Statistic Techniques.
The procedure includes each of the seven (7) requirements for data analysis. In addition, Matthew Walker updated the procedure to include color-coded references to each clause requirement. This facilitates auditors identifying where all the procedural requirements of the ISO 13485:2016 standard can be found.
Please note: This product will be delivered to the email address provided in the shopping cart transaction. After the transaction is verified, please check your email for the download.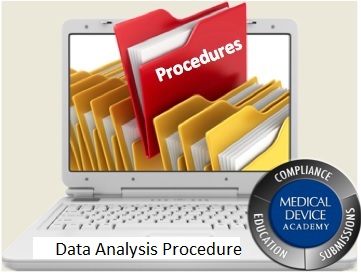 SYS-017 – Monitoring, Measuring and Data Analysis Procedure
SYS-017 Monitoring, Measuring and Data Analysis Procedure – This procedure explains how the monitoring and measuring of each process (ISO 13485: 2016, Clause 8.2.5) shall be documented within procedures; how monitoring and measuring of product conformity (ISO 13485:2016, Clause 8.2.6) shall be conducted; how quality objectives (ISO 13485:2016, Clause 5.4.1) shall be established and maintained; how data analysis (ISO 13485:2016, Clause 8.4.1) of the above metrics shall be performed; and how the above information shall be communicated to top management (ISO 13485:2016, Clause 5.6) to actions may be taken when appropriate.
 To view all available procedures click here
To review a sample Medical Device Academy procedure click below: